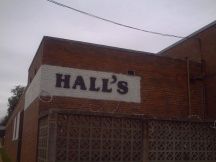 Hall's Birmingham Wholesale Florist is located at:
(205) 322-4627


Hall's Birmingham Wholesale Florist is easy to get to from I-65.
Take the Greensprings exit (#258).
Turn left, over the freeway
Go to the first traffic light, Turn Right onto Center St S
Drive approx 8-9 blocks to the Traffic Light at 6th Ave SW
Turn left, stay in right lane
Hall's is about 1 1/2 blocks up on the right.

Coming South from the Downtown area (you can follow the above directions except turn right at the Greensprings exit, OR)
Take the 6th Ave S exit (#259A)
This exit will put you onto 6th Ave S heading in the correct direction.
Travel about 10-12 blocks
As you pass 1st St S, then Center St you will pass a Public Library, then a Church.
Hall's is on the Right


See you Soon!